How to File Your UCR Online With UCR.Online
Completing your Unified Carrier Registration filing is beyond easy when you do it online with UCR.Online! Essentially, if you have all of your truck information, you can complete the UCR registration process in minutes!
To get started, click HERE!
Once you are taken to the UCR registration form portal, begin to enter your information. Start with your USDOT number, the year you wish to register for, your email address, business phone number, and mobile number. If you do not yet have a USDOT number, please click HERE to get that process started first.
NOTE: Make sure you select the correct filing year. The UCR registration process has already opened for 2024, so you can either get started on pre-filing for next year, or you can file for the UCR registration 2023 if you are in need of one now. Unless you plan to begin a trucking business that requires a UCR registration and wish to begin operations in 2023, you would be best off getting ahead and filing for the UCR registration 2024.
Once you have entered all of your information, answer the question and confirm the information that populates is correct.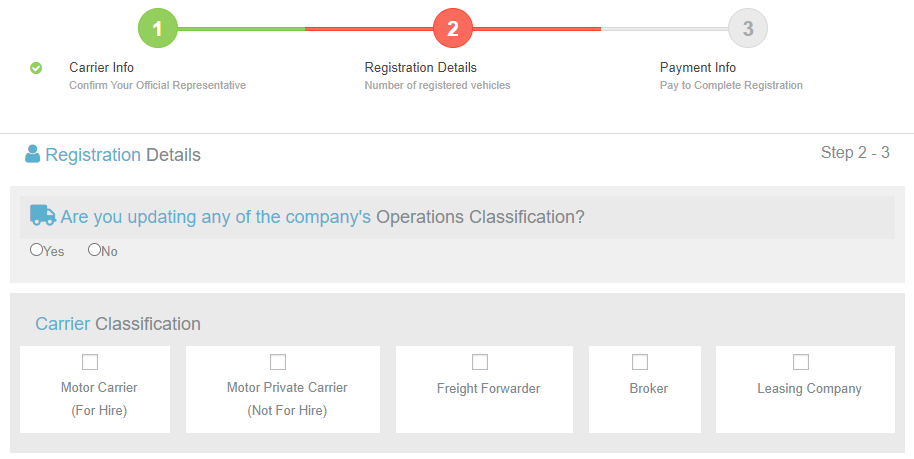 Next, answer the question regarding your company and select what your carrier classification is. Proceed by entering your vehicle information. Be sure to include information for all trucks you require the UCR 2024 for.
Lastly, proceed with payment.
Now you can rest easily knowing you will continue to be compliant, having successfully filed for the UCR registration!
Or, you always call us directly and we can assist you further with completing the Unified Carrier Registration. Give us a call at (800) 376-8355 and we will happily assist you with staying compliant for your trucking business with an up-to-date UCR filing!