Submit Your info
If you or your business needs to register for the Unified Carrier Registration, then you've come to the right place. We can get everything done in three simple steps and have you registered by the end of the day. The first thing you'll need to do is fill out the registration form HERE.
You'll need to provide your name, contact information, and your United States Department of Transportation Number (USDOT #). After you click next, you'll be brought to our smart forms to finish the process. Make sure we have the proper address and legal name of your company on file. Verify that the address on file is correct and up-to-date. Then check the box that confirms that you are an authorized representative from your company who can perform tasks on behalf of your company. The next box confirms that your business is categorized as a business that requires Unified Carrier Registration. When everything is in order, click the NEXT STEP button.
Verify Business Credentials
This section has two parts. The first part is to determine what classification your business falls under. It could be a motor carrier, a motor private carrier, a freight forwarder, a broker, or a leasing company. Check the classification that best fits your company.
You'll then see the section that determines the number of trucks you have in your fleet. This is broken into three sections: Straight Trucks & Tractors; Passenger Vehicles; and Additional Vehicles. We will auto-fill these numbers from what you may have registered in previous years. If the numbers are the same, just continue to the next step. If they are different, select option B to manually input the total number of vehicles. Confirm that the vehicle totals are correct and that you included any exempted vehicles you may have. Be warned: including exempted vehicles flags your account for a possible audit down the line. Only include exemptions if you are sure you qualify.
Pay and Download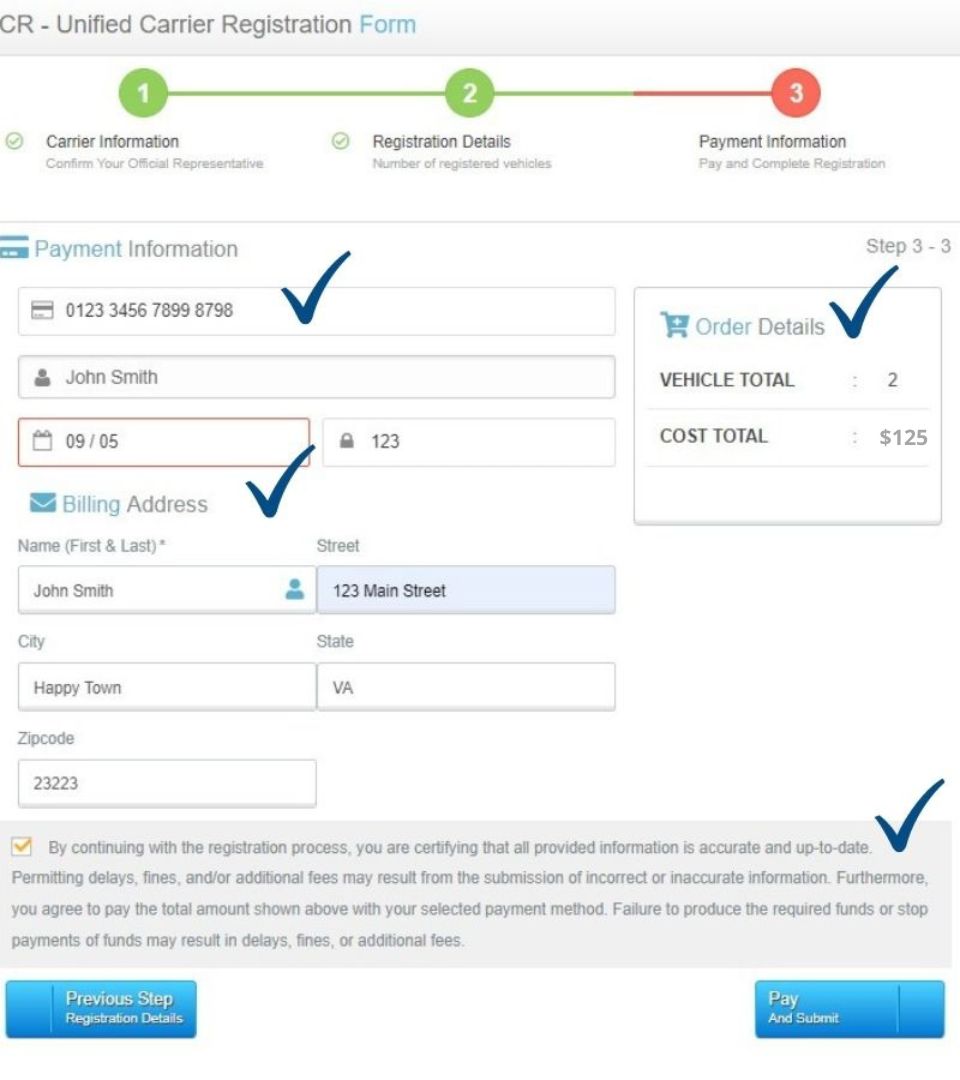 The price you pay depends on the number of vehicles you wish to register. We accept all major credit and debit cards. Fill out the billing address and credit card information. Make sure the price reflects the number of vehicles you wish to register and then click continue.
We submit your documents directly to your government department. As soon as they are approved, we will contact you via email. We will issue you your registration documents as well as a receipt for the transaction. You will then be automatically registered with a digital PDF document right in your email for easy access. Print it out to save it in your files or keep it on your smart phone for easy proof of registration.
And that's it. You have successfully registered with the Unified Carrier Registration. You are now free to cross state lines and continue over federal borders like Canada and safely return home without any issues.